Periodic Limb Movement Disorder
What is Periodic Limb Movement Disorder (PLMD)?
Periodic limb movements in sleep are repetitive movements, most typically in the lower limbs, that occur about every 20-40 seconds. If you have PLMD or if you sleep with someone who has PLMD, you may recognize these movements as brief muscle twitches, jerking movements, or an upward flexing of the feet. They cluster into episodes lasting anywhere from a few minutes to several hours.

Individuals with PLMD may also experience restless legs syndrome (RLS), an irritation or uncomfortable sensation in the calves or thighs, as they attempt to fall asleep or when they awaken during the night. Walking or stretching may relieve the sensations, at least temporarily. However, research also shows that many individuals have PLMD without experiencing any symptoms at all. It is not unusual for the bed partner to be the one who is most aware of the movements, since they may disturb his/her sleep.

Back to Top
Restless Leg
What is Restless Leg Syndrome?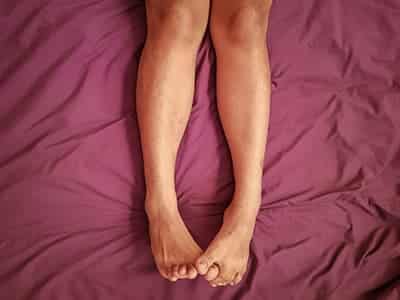 Restless leg syndrome is a common cause of painful legs. The leg pain of restless leg syndrome typically eases with motion of the legs and becomes more noticeable at rest. Restless leg syndrome also features a worsening of symptoms during the early evening or later at night.
The characteristic nighttime worsening of symptoms in persons with restless legs syndrome frequently leads to insomnia. Restless leg syndrome usually begins slowly. Over time, the legs become more affected. Less frequently, restless leg syndrome can affect the arms.
Common Causes

The cause of restless leg syndrome is unknown in most patients. However, restless leg syndrome has been associated with pregnancy, obesity, smoking, iron deficiency and anemia, nerve disease, polyneuropathy (which can be associated with hypothyroidism, heavy metal toxicity, toxins, and many other conditions), other hormone diseases such as diabetes, and kidney failure (which can be associated with vitamin and mineral deficiency).
Some drugs and medications have been associated with restless leg syndrome including caffeine, alcohol, H2-histamine blockers (such as Zantac and Tagamet), and certain antidepressants (such as Elavil). Occasionally, restless legs run in families. Recent studies have shown that restless leg syndrome appears to become more common with age.

Back to Top