For Physicians
Dear Referring Physician,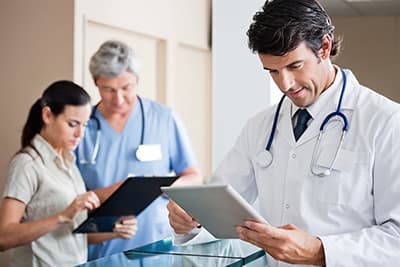 Thank you for choosing to send your patient to Chicago Sleep Center. Like you, our primary goal is to make your patients feel better faster. At Chicago Sleep Center, your patient will find a highly experienced and dedicated team of otolaryngologists, sleep specialists, audiologists, allergists, and dental sleep specialists, plus a staff that strives to make each visit as comfortable and efficient as possible.
Over the past 30 years, our medical team has improved the lives of thousands of patients, some of whom came to us after unsuccessfully seeking answers from dozens of physicians and trying countless medications. Here's why:
With a team of caring experts working together, backed by the latest technology and research, Chicago Sleep Center has the right combination of experience and expertise to diagnose and treat patients other doctors just can't.To schedule same-day and next-day appointments, call the office that is most convenient for your patients. You'll find the addresses and phone numbers for each of our offices on our locations page.
We know that your referral is a reflection of your judgment, and we will make every effort to provide an outstanding experience for your patients. Thank you for putting your trust in us.
Sincerely,
Dr. Michael Friedman and the Chicago Sleep Center Staff
Patient Referral Form